NOBSCOTDENTAL CARE


REZA M. MADANI, DMD, FAGD
An implant is a titanium "root" which can be placed into the jawbone. Once integrated with your bone, the implant can be used to support a crown, a bridge, or secure a complete denture. Dental implants may be used to eliminate partial plates and dentures. Implants have been used successfully for over thirty years, have a high success rate and function and feel like your natural teeth. Dental implants are now the standard of care for replacing missing teeth. Dental implant treatment represents a slightly greater investment than conventional treatment; however, the benefits of implant therapy for most patients outweigh the minor additional cost involved.
1. Eliminates the need to "cut down" the neighboring teeth to make a bridge.
2. Maintains the jawbone structure.
3. Feels and functions like natural teeth.
4. Does not rely on other teeth for support.
5. Replaces partial plates and may be used to secure loose dentures.
6. Cleaned and flossed like a natural tooth.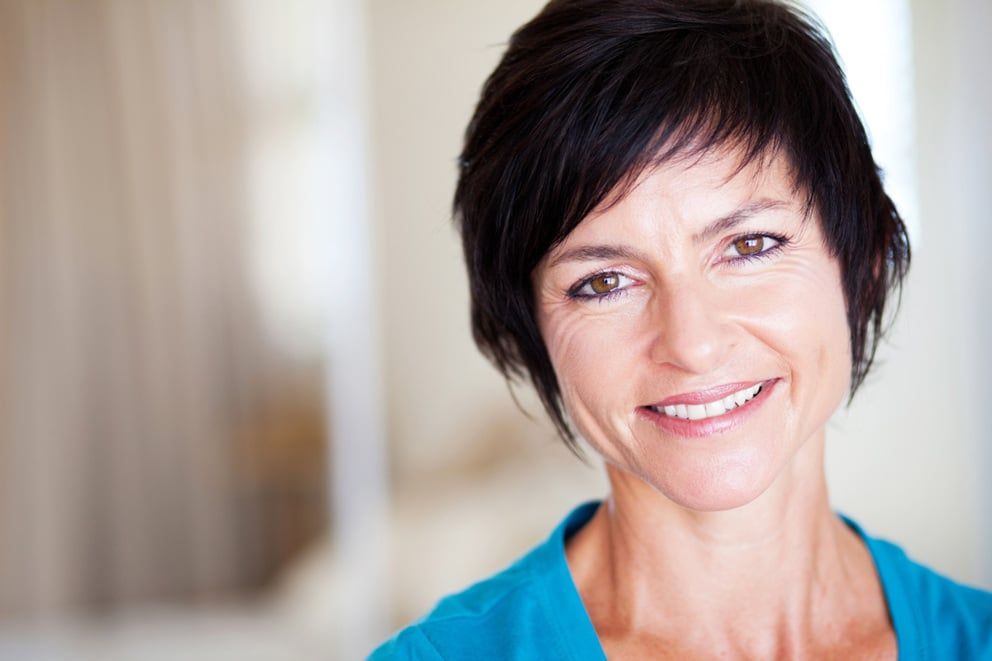 On the day of your appointment please arrive 15-20 minutes prior to your scheduled time. This has proven to help patients settle in and release the pre-surgery nervousness. We will make you as comfortable as possible during your visit.

We recommend bringing along a friend or relative on the day of your treatment. Depending on the procedure itself, you may be receiving anesthesia and possibly other medication during the surgery. It is important that an adult accompany you to the office, stay during the procedure and drive you home after your recovery.

We will provide you with detailed information regarding medication, food, drink, and other preparations that you may need. Please follow their instructions on the day of your treatment. We will also provide you with complete post-surgery instructions including cleaning and maintenance instructions, and if necessary we'll provide you with prescriptions for any medications necessary to reduce the post-surgery discomfort and to help you toward a speedy recovery.

We'll arrange follow-up appointments to assure you maintain a beautiful, natural smile for years to come.
There are actually two phases to implant dentistry.
Phase 1: Using very accurate surgical techniques, an incision is made in the gum tissues and implants are placed into dimensionally controlled sites (depth and width) in the jawbone.
First, the gum tissue is opened and the jaw bone is tapped with a small drill and then drilled with a wider drill. The implant is inserted into place. The gum tissues are then closed and the healing phase begins. This may take anywhere from 3-6 months to ensure a strong base.
Phase 2: An abutment is secured to the top of the implant placing a new tooth crown onto the implant abutment. Implants can replace a single tooth, several teeth or your dentures.
In many situations it is possible to remove the diseased and/or loose teeth and replace them with dental implants at the same time. In almost all situations simultaneous bone grafting is completed. This method of treatment reduces the number of surgical visits. It also speeds up the entire process enabling the implants to be ready to receive (caps/crowns) more quickly.
After Placement of Dental Implants
Do not disturb the wound. Avoid rinsing, spitting, or touching the wound on the day of surgery. There will be a metal healing abutment protruding through the gingival (gum) tissue.

BLEEDING. Some bleeding or redness in the saliva is normal for 24 hours. Excessive bleeding can be controlled by biting on a gauze pad placed directly on the bleeding area for 30 minutes. If bleeding continues please call the office for further instructions.

SWELLING. Swelling around the mouth, cheeks, eyes and sides of the face is not uncommon as it is the body's normal process in repairing itself. Swelling does not always appear immediately. It may take 12 to 24 hours before swelling becomes apparent. Swelling may not reach its maximum until 2-3 days post-surgery. Swelling may be minimized by the immediate use of ice packs post-surgery. Two baggies filled with ice, or ice packs should be applied to the sides of the face where surgery was performed. The ice packs should be left on continuously while you are awake. After 36 hours, ice has no beneficial effect. If swelling or jaw stiffness has persisted for several days call the office.

DIET. Drink plenty of fluids. Avoid hot liquids or hot food. Soft food and liquids should be eaten on the day of surgery. Return to a normal diet as soon as possible unless otherwise directed.

PAIN MEDICATION. You should begin taking pain medication as soon as you feel the local anesthetic wearing off. For moderate pain, 1 or 2 Tylenol or Extra Strength Tylenol may be taken every 3-4 hours. Ibuprofen (Advil or Motrin) may be taken instead of Tylenol. Ibuprofen, bought over the counter comes in 200 mg tablets: 2-3 tablets may be taken every 3-4 hours as needed for pain. For severe pain, the prescribed medication should be taken as directed. Be sure to take the prescribed antibiotics as directed to help prevent infection. Do not take any of the above medication if you are allergic, or have been instructed by Nobscot Dental Care not to take it.

HOME HYGIENE CARE. The night of surgery, use the prescribed Peridex Oral Rinse before bed. The day after surgery, the Peridex should be used twice daily, after breakfast and before bed. Be sure to rinse for at least 30 seconds then spit it out. Warm salt water rinses (teaspoon of salt in a cup of warm water) should be used at least 4-5 times a day, as well, especially after meals. Brushing your teeth and the healing abutments is no problem, but be gentle initially with brushing the surgical areas. Good oral hygiene is essential to good healing.

PHYSICAL ACTIVITY. Keep physical activities to a minimum immediately following surgery. Physical activity could cause throbbing or bleeding of the surgical implant area.

WEARING DENTURES. You will always have teeth during your recovery period. Temporary partial dentures or full denture arches should not be used immediately after surgery and for at least 10 days.
Bone grafting is commonly performed by an oral and maxillofacial surgeon to replace or augment bone in areas of tooth loss. Bone grafting to the jaws and facial structures may be necessary in a wide variety of scenarios. The most common bone grafts are facial skeleton and jaw procedures. Other common procedures include tooth extraction site graft, bone graft reconstruction and for a sinus lift. Shrinkage of bone often occurs when a tooth is lost due to trauma, severe caries, or periodontal disease. Additionally, bone loss may have already occurred due to infection or pathology around a tooth. There are many artificial biocompatible bone substitutes available; however, the best material for a bone graft is your own bone, which most likely will come from your chin, the back part of your lower jaw or your hip bone. The hip is considered to be a better source because the hip bone has a lot of marrow, which contains bone-forming cells. There are also synthetic materials that can be used for bone grafting. Most bone grafts use a person's own bone, possibly in combination with other materials.

To place the removed bone in the recipient site, little holes are drilled in the existing bone to cause bleeding. This is done because blood provides cells that help the bone heal. The block of bone that was removed will be anchored in place with titanium screws. A mixture of the patient's bone marrow and some other bone-graft material will then be placed around the edges of bone block. Finally, a membrane is placed over the area and the incision closed.

The bone graft will take about 6 to 12 months to heal before dental implants can be placed. At that time, the titanium screws used to anchor the bone block in place will be removed before the implant is placed.
A Beautiful Smile Is Waiting For You
Our office provides smile makeovers to achieve the beautiful, natural look you seek. We can reshape your natural teeth to make them straighter or more youthful in appeal. Our offices is easily accessible and makes it convenient to those living in Framingham to get the care they deserve.
Make an Appointment
Call Us Today
(508) 276-5077
Do you have missing teeth? It is critically important to replace missing teeth. Eating and chewing with missing teeth can sabotage your bite and lead to incessant discomfort. Missing teeth can give rise to a mouth rearrangement that often results in facial changes that look decrepit. If a tooth is missing or has been extracted for any reason, a single implant can be used to replace the missing tooth. The implant is placed into the bone of the jaw and acts as the new tooth root. After the bone has healed over the implant, an abutment can be placed on the implant and a crown can then be attached. This method of tooth replacement looks and feels like natural teeth.
In cases where multiple teeth are missing or have been extracted, multiple implants can be used to bring back your smile. The implants are placed into the jawbone and are given time to heal. After the bone has healed around the implants, an abutment is attached to the implant which then allows for a crown or bridge to be placed right on the implant. These new teeth will look and act just like natural teeth.

Ask Dr. Madani, a popular implant dentist in Framingham, if dental implants are right for you.
Implant Supported Dentures
This prosthesis is used in special situations for patients who have enough bone in the anterior regions of the lower or upper jaws, but limited amount of bone in the posterior regions and are not candidates for extensive bone grafting.
A mini dental implant (MDI) is an implant used to provide better denture stability in patients that cannot handle standard implant surgery, do not have enough bone to support a standard implant or are going from one prosthetic system to another due to continuing therapy.

The top of an MDI is shaped like a ball that allows a rubber o-ring to snap in over the ball when the denture is placed onto it. These types of implants can usually be placed in one or two office visits because there is no waiting on the jawbone to heal. In most situations the patient can walk out with their dentures the same day they receive their implants.
Before making the decision in going the implant route, ask yourself if there is another option. We offer many different implant alternatives.
The different alternative options to implants that we provide are:
- Tooth Supported Bridge
- Removable Partial Denture
- No Treatment
Getting an implant can be a life changing decision. If you have more questions please follow the link to the Implant FAQs section or give us a call at (508) 276-5077 to schedule a consultation.
---
Framingham Dentist Ratings - Dr. Madani
based on
9
ratings.
Framingham Dentist Reviews.
2015
Harriet Shapira
★★★★★
Dr. Madani is a wonderful dentist! He is very skilled and knowledgable, and I feel very confident and comfortable with him; I know I'm in good hands. His warmth and friendliness put me right at ease, and his whole staff is always so friendly. My family feels the same way. Harriet Shapira
2013
Suzanne B.
★★★★★
Thank you so much for 15 years of the most outstanding dental care a patient could ever receive. your skill at diagnosis, compassion, hands of pure gold, easy-to-understand explanations and fabulous 'chair-side' manner which immediately puts even the most fearful patient at ease all combine to make seeing you a pleasurable experience. how many people can say that they actually ENJOY going to the dentist and emerge with perfect results every time?? You are one of a kind.
2012
Chrisa M.
★★★★★
I just wanted to drop you a note to say thank you so very much for my lovely smile. I get so many compliments on my teeth thanks to you. You did a job well done, and for all your patience, and time, I'm not afraid of the dentist anymore! Thanks to you and the staff.
2011
Lucas R.
★★★★★
Thank you for all the good work throughout all those years we had spent as your patient. Many Thanks for everything your happiness, good spirit, and above all your excellent job.
We are going to miss you guys.
2011
Lillian P.
★★★★★
Dear Dr. Madani, I just had to thank you again for my happy birthday ballon. I want to thank you for your kindness, patience, your good heart, your expertise in the care you've given me. I hope your future along with your beautiful bride will be blessed with happiness, good health and success in all your endeavors. Lucky me to have someone so sympathetic to my needs and the help you've given me in so many ways. You really are a great representative for the Gentle Dental Assoc. P.S. The dental assistants and the girls at the front desk are all sweethearts too.
2011
Jeannette W.
★★★★★
Thank you for helping create the perfect smile for my wedding day!
2010
Katrina E.
★★★★★
I saw Dr. Reza Madani for the consultation of a difficult big bridge replacement. This problem has existed for a few years, but I never understood completely all the issues. Dr. Madani went through this problem area tooth by tooth using my x-rays and even drawing pictures for a better understanding. he patiently explained to me all the options, advantages and disadvantages of every option. When I left the Centre Street office I though it was my best dental appointment - and I have had quite a few of them over my lifetime! I also liked very much the supportive team - receptionist, assistant, hygienist - who are professional and friendly. I really recommend this place.
2010
Ye K.
★★★★★
I really appreciate for the treatment of my front teeth .... even for free. It was the niggest complex but I can smile confidently now. Thank you so much! I'm going back to Virginia tomorrow to finish my college degree. Thanks for helping and being kind to my parents. My family really likes you haha.
2010
Diane P.
★★★★★
I can tell that this crown is stable and after a week, it is solid and feels great! Dr. Madani also suggested I wear a night guard to protect my crown (since I grind my teeth at night) which I have done.
I also want to say that Imelda O'Connor, the Office Manager is a wonderful and efficient manager and should also be commended. She was able to coordinate with the JP office to work out the financial issue in regard to solving my crown problem. It is a true pleasure going to this Gentle dental office and I will recommend it to all my friends. The entire staff there; Dr. Lozada and Dr. Madani's assistants are wonderful as well.
This has been a great experience for me, a woman who has had many tedious and painful visits to dentists over the past 5 years. Presently I am unemployed and not able to afford the additional dental care I would love, since the medical insurance I am paying is quite high, but I hope to be working full time soon and will be sure to make an appointment at Gentle Dental West Roxbury for my overdue cleaning. I have always tried to keep up my dental appointments because I know that it is very important for overall health.