NOBSCOTDENTAL CARE


REZA M. MADANI, DMD, FAGD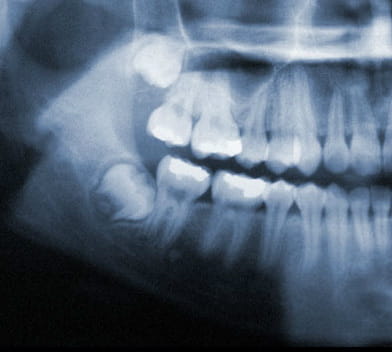 Wisdom teeth generally begin to form in your pre-teen years. By late teen years, the crown of the wisdom teeth will begin to erupt through the gums if there is adequate room. By mid twenties, your wisdom teeth will either be able to fully erupt or will have become impacted. Early removal of wisdom teeth makes the procedure easier for the patient to tolerate and promotes faster healing after wards. By your early forties, the wisdom teeth roots have become fully anchored to the jawbone and if required to be extracted, will be much harder and will need more time to heal.
The problems involving your wisdom teeth may be caused by the size of your jaw and/or by how crowded your teeth are. Common warning symptoms that there is an un-natural problem in the development of your wisdom teeth could be pain and swelling.
Symptoms can be caused by:
1) Infection to the gums
2) A crowded tooth displacing neighboring teeth
3) A decayed wisdom tooth
4) Poorly positioned wisdom tooth
5) A cyst that destroys bone
Removal of wisdom teeth could be done while you are sedated and being carefully monitored.

1) An incision is made in the gums.
2) The overlaying bone is removed to
expose the crown of the tooth.
3) The tooth is then extracted as a whole or under certain circumstances, it may be necessary to be removed in pieces. This is generally done for severely impacted wisdom teeth.
4) The area is stitched closed and allowed to heal.
After Wisdom Tooth Removal
Post-operative care of the removal of impacted teeth is very important. Carefully follow instructions to minimize unnecessary pain and complications of infection and/or swelling.

BLEEDING. A certain amount of bleeding is to be expected following surgery. Slight bleeding, oozing, or slight blood traces in the saliva is not uncommon. To help minimize bleeding site, avoid any sort of exercise or excitement. Excessive bleeding may be controlled by first rinsing or wiping any old clots from your mouth, then placing a gauze pad over the area and biting firmly for thirty minutes. This action should create a blood clot and bleeding will stop; however, if bleeding does not stop repeat as necessary. As an alternative to the gauze gently bite on a moistened tea bag for thirty minutes. The tannic acid in the tea bag helps to form a clot by contracting bleeding vessels. If bleeding does not subside, call the office at (508) 276-5077 for additional instructions.

Standard After Surgery Instructions:
- The gauze pad placed over the surgical area should be kept in place for a half hour prior to removal.
- Vigorous mouth rinsing the surgical area following surgery should be avoided. Vigorous sucking through a straw should be avoided. Touching the surgical area should be avoided. These actions may cause the blood clot to become dislodged and cause excess bleeding.
- Begin taking the prescribed pain medications as soon as you begin to feel discomfort.
- Place ice packs to the sides of your face where surgery was performed.
- Restrict your activities the day of surgery and resume normal activity when you feel comfortable.

SWELLING. Swelling around the mouth, cheeks, eyes and sides of the face is not uncommon as it is the body's normal process in repairing itself. Swelling does not always appear immediately. It may take 12 to 24 hours before swelling becomes apparent. Swelling may not reach its maximum until 2-3 days post-surgery. Swelling may be minimized by the immediate use of ice packs post-surgery. Two baggies filled with ice, or ice packs should be applied to the sides of the face where surgery was performed. The ice packs should be left on continuously while you are awake. After 36 hours, ice has no beneficial effect. If swelling or jaw stiffness has persisted for several days, there is no cause for alarm. This is a normal reaction to surgery. Thirty-six hours following surgery, the application of moist heat to the sides of the face is beneficial in reducing the size of the swelling.

PAIN MEDICATION. For moderate pain, one or two tablets of Tylenol or Extra Strength Tylenol may be taken every three to four hours or Ibuprofen, (Motrin or Advil) two-four 200 mg tablets may be taken every 3-4 hours. For severe pain, take the tablets prescribed as directed. The prescribed pain medicine will make you groggy and will slow down your reflexes. Do not drive or operate machinery and avoid alcoholic beverages. Pain or discomfort should subside more every day. If pain persists, it may require attention and you should call the office for assistance.

DIET. After general anesthetic or I.V. sedation, liquids should be initially taken. Do not use straws. Drink from a glass. The sucking motion can cause more bleeding by dislodging the blood clot. You may eat anything soft by chewing away from the surgical sites. Nourishment and regular fluid intake is important to your recovery. At least 5-6 glasses of liquid should be taken daily. Try not to miss a single meal. You will feel better, have more strength, less discomfort and heal faster if you continue to eat.

HOME HYGIENE CARE. There will be a cavity where the tooth was removed. The cavity will gradually over the next month fill in with the new tissue. In the mean time, the area should be kept clean especially after meals with salt water rinses or a toothbrush. No rinsing of any kind should be performed until the day following surgery. You can brush your teeth the night of surgery but rinse gently. The day after surgery you should begin rinsing at least 5-6 times a day especially after eating with a cup of warm water mixed with a teaspoon of salt.

ANTIBIOTICS. If Nobscot Dental Care has prescribed antibiotics, take the tablets or liquid as directed. Antibiotics will be given to help prevent infection. Call the office in the event of a rash or other unfavorable reaction at (508) 276-5077.

NAUSEA. Occasionally a prescribed pain medicine may induce nausea and/or vomiting following surgery. Do not take anything by mouth for at least an hour including the prescribed medicine. You should then sip on coke, tea or ginger ale. You should sip slowly over a fifteen-minute period. When the nausea subsides you can begin taking solid foods and the prescribed medicine.

Other Complications
- NUMBNESS. As discussed in your pre-surgery consultation numbness of the lip, chin, or tongue can occur, but there is no cause for alarm. This is usually a temporary condition. If you do experience numbness be careful not to bite your lip of tongue as you will not feel the action. Call Nobscot Dental Care if you have any questions.

- TEMPERATURE. Slight elevation of temperature immediately following surgery is not uncommon. If the temperature persists, notify the office. Tylenol or ibuprofen should be taken to reduce the fever.

- DIZZINESS. Taking pain medications can make you dizzy. You can get light headed when you stand up suddenly. Before standing up, you should sit for one minute then get up.

- SUTURES. Sutures may be placed the area of surgery to minimize post-operative bleeding and to help healing. Sometimes they become dislodged, this is no cause for alarm. Just remove the suture from your mouth and discard it. In about a week post surgery the sutures will be removed by Nobscot Dental Care . It is a simply procedure that does not require any anesthesia or needles and only takes a few minutes.

- SORE THROAT PAIN. Sore throats and pain when swallowing are not uncommon. The muscles get swollen. The normal act of swallowing can then become painful. This will subside in 2-3 days.

- JAW STIFFNESS. Stiffness of the jaw muscles may cause difficulty in opening your mouth for a few days following surgery. This is a normal post-operative event which will resolve in time.
---
Framingham Dentist Ratings - Dr. Madani
based on
9
ratings.
Framingham Dentist Reviews.
2015
Harriet Shapira
★★★★★
Dr. Madani is a wonderful dentist! He is very skilled and knowledgable, and I feel very confident and comfortable with him; I know I'm in good hands. His warmth and friendliness put me right at ease, and his whole staff is always so friendly. My family feels the same way. Harriet Shapira
2013
Suzanne B.
★★★★★
Thank you so much for 15 years of the most outstanding dental care a patient could ever receive. your skill at diagnosis, compassion, hands of pure gold, easy-to-understand explanations and fabulous 'chair-side' manner which immediately puts even the most fearful patient at ease all combine to make seeing you a pleasurable experience. how many people can say that they actually ENJOY going to the dentist and emerge with perfect results every time?? You are one of a kind.
2012
Chrisa M.
★★★★★
I just wanted to drop you a note to say thank you so very much for my lovely smile. I get so many compliments on my teeth thanks to you. You did a job well done, and for all your patience, and time, I'm not afraid of the dentist anymore! Thanks to you and the staff.
2011
Lucas R.
★★★★★
Thank you for all the good work throughout all those years we had spent as your patient. Many Thanks for everything your happiness, good spirit, and above all your excellent job.
We are going to miss you guys.
2011
Lillian P.
★★★★★
Dear Dr. Madani, I just had to thank you again for my happy birthday ballon. I want to thank you for your kindness, patience, your good heart, your expertise in the care you've given me. I hope your future along with your beautiful bride will be blessed with happiness, good health and success in all your endeavors. Lucky me to have someone so sympathetic to my needs and the help you've given me in so many ways. You really are a great representative for the Gentle Dental Assoc. P.S. The dental assistants and the girls at the front desk are all sweethearts too.
2011
Jeannette W.
★★★★★
Thank you for helping create the perfect smile for my wedding day!
2010
Katrina E.
★★★★★
I saw Dr. Reza Madani for the consultation of a difficult big bridge replacement. This problem has existed for a few years, but I never understood completely all the issues. Dr. Madani went through this problem area tooth by tooth using my x-rays and even drawing pictures for a better understanding. he patiently explained to me all the options, advantages and disadvantages of every option. When I left the Centre Street office I though it was my best dental appointment - and I have had quite a few of them over my lifetime! I also liked very much the supportive team - receptionist, assistant, hygienist - who are professional and friendly. I really recommend this place.
2010
Ye K.
★★★★★
I really appreciate for the treatment of my front teeth .... even for free. It was the niggest complex but I can smile confidently now. Thank you so much! I'm going back to Virginia tomorrow to finish my college degree. Thanks for helping and being kind to my parents. My family really likes you haha.
2010
Diane P.
★★★★★
I can tell that this crown is stable and after a week, it is solid and feels great! Dr. Madani also suggested I wear a night guard to protect my crown (since I grind my teeth at night) which I have done.
I also want to say that Imelda O'Connor, the Office Manager is a wonderful and efficient manager and should also be commended. She was able to coordinate with the JP office to work out the financial issue in regard to solving my crown problem. It is a true pleasure going to this Gentle dental office and I will recommend it to all my friends. The entire staff there; Dr. Lozada and Dr. Madani's assistants are wonderful as well.
This has been a great experience for me, a woman who has had many tedious and painful visits to dentists over the past 5 years. Presently I am unemployed and not able to afford the additional dental care I would love, since the medical insurance I am paying is quite high, but I hope to be working full time soon and will be sure to make an appointment at Gentle Dental West Roxbury for my overdue cleaning. I have always tried to keep up my dental appointments because I know that it is very important for overall health.